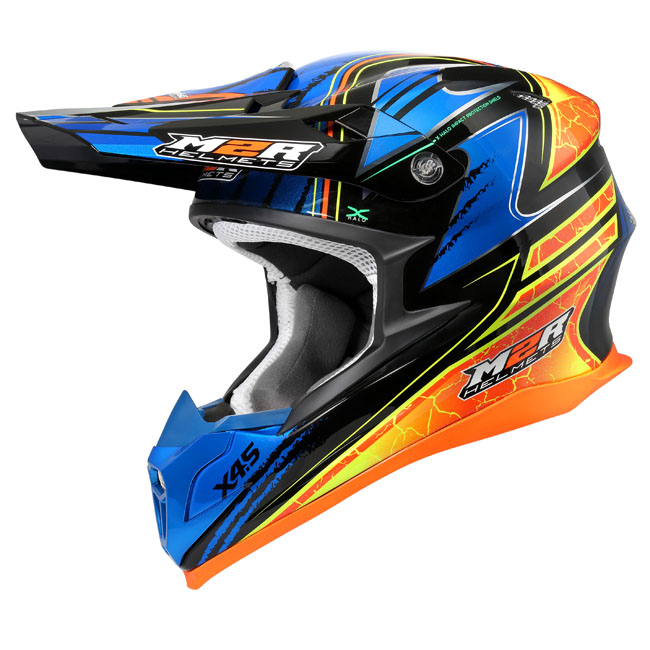 THE NEW M2R X4.5 HELMET IS THE RESULT OF OVER 4 YEARS OF DESIGN, DEVELOPMENT & TESTING - IN LABS AND ON THE TRACK BY OUR ELITE LEVEL M2R RIDERS.
PROVEN MIT+ SHELL TECHNOLOGY NOW PAIRS WITH THE UNIQUE X-HALO SHIELD, CREATING A HELMET THAT OFFERS THE HIGHEST LEVEL OF PROTECTION AND PERFORMANCE.
MIT+ SHELL: LIGHTWEIGHT FEEL, ULTIMATE PROTECTIONULTRA-LIGHT CONSTRUCTION - ONLY 1250G! (+-50G)
ECE 22.05 CERTIFIED
• Updated MIT+ Technology Shell features Hand Crafted Carbon, Kevlar and Fibreglass Multi-Layer Construction
• Quad composite construction is the ultimate blend of strength and weight
• Super-lightweight has been achieved with enhanced strength for greater structural integrity and energy absorption
• Extended chin bar ridges provide improved goggle protection in side impacts
X HALO SHIELD - UNIQUE TO M2R!
• The all new M2R developed X-HALO SHIELD material changes at a molecular level during an impact, providing superior shock absorption and impact protection
• M2R's unique X-HALO SHIELD provides up to 12% improved protection in critical halo position!
DUAL LAYER 4-PIECE CHANNELLED EPS SHOCK ABSORPTION LINER
• Firm Density Crown Top EPS Layer
• Soft Density Crown Inner EPS Layer
• EPS Lined cheek pads for full circumference cranial protection
• These layers combine to provide superior protection from a variety of impacts
ESRS (EMERGENCY SAFETY REMOVAL SYSTEM)
• All new improved cheek pads can be quickly and easily removed in an emergency by pulling two safety tabs located at the front of the cheek pads
• Reduces pressure and movement during helmet removal
ERGONOMIC 3D INTERIOR
• The X4.5's all new fully removable 3D Ergonomic Interior liner is designed with new materials to provide the highest level of comfort, hold, durability and sweat wicking properties
• Varying thickness Cheek Pad and crown liners available for a fully customisable fit
MULTI-CHANNEL VORTEX VENTILATION SYSTEM
• Multiple inlet and exhaust vents are enhanced by full flow-through channelling between the EPS layers to ensure massive airflow and total concentration
• An all new streamlined mouth piece allows the highest airflow whilst maintaining roost protection with an aggressive new look
SAFETY SHEAR PEAK
• Fully adjustable Safety Shear peak features lightweight plastic screws designed to shear away in an impact, reducing rotational loads on the rider's neck.
• Aerodynamic design enhances cool air intake and reduces wind resistance.
X4.5 HELMET
MIT+ SHELL: LIGHTWEIGHT FEEL, ULTIMATE PROTECTION
ULTRA-LIGHT CONSTRUCTION - ONLY 1195G (+/_50G)
ECE 22.05 CERTIFIED
X HALO SHIELD - UNIQUE TO M2R!
DUAL LAYER 4-PIECE CHANNELLED EPS SHOCK ABSORPTION LINER
ESRS (EMERGENCY SAFETY REMOVAL SYSTEM)
ERGONOMIC 3D INTERIOR
MULTI-CHANNEL VORTEX VENTILATION SYSTEM
SAFETY SHEAR PEAK