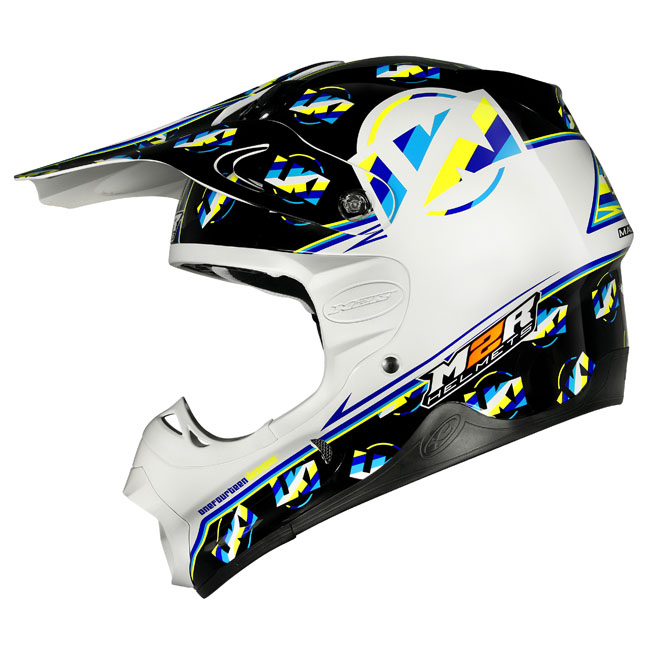 The new RevX3.2 helmet has been honed to perfection using feedback from a host of pro-level riders, like Grant Langston, Dean Ferris and many more! The new LKI 'Archivist' graphic design is the result of a collab with Australian based fashion label Loosekid Industries!
Our Rev-X3.2 premium race helmet is created using our unique MIT (Multiple Inclusion Technology) Carbon, Kevlar & Fibreglass shell. This is coupled with a 4 piece EPS foam protection liner, with a Dual Density crown section for increased safety. The end result is a helmet that provides protection equal to the world's best, and performance and comfort unequalled at this price!
MIT (Multiple Inclusion Technology) Shell Construction
Carbon Fibre, Kevlar and Fibreglass MIT Shell Construction
New interior liner with improved comfort & sweat wicking
Fully removable Anti-allergenic interior liner with speed clips
4 piece EPS Impact liner with Dual Density crown for progressive impact absorption
Revised EPS liner with for improved safety & comfort
Multiple air channel EPS foam liner system channels air through the helmet for vastly advanced cooling
Power Ridges enhance shell strength and ventilation
Adjustable top intake ports & Rear vent draws away hot air
Liner features integrated air channels for increased airflow
Adjustable Safety Shear peak & new rear wing with improved aerodynamics and ventilation
Race style Double D-Ring Retention System
Australian Standards AS/NZS1698 Approved
REV-X3.2 HELMET
The new RevX3.2 is a premium race spec helmet with M2R's unique Carbon, Kevlar and FG Composite MIT shell!
This Pro-level helmet is an update on Grant Lansgton's AMA Motocross Championship winning RevX3 helmet!
Features include a premium 3D removable Interior liner, rear wing with enhanced vortex exhaust, and hi-flow chin vent.